RFR003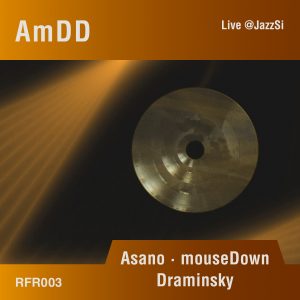 Live @ JazzSi
AmDD
Asano Koji: laptop.
mouseDown: turntable.
Jakob Draminsky Højmark: bass clarinet and sopranino saxophone.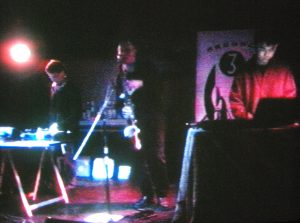 Recorded live by legendary Barcelona musician and composer Joan Saura, AmDD Live @ JazzSi, captures one out of five performances in Barcelona, 2003 by Japanese laptop artist Koji Asano, in collaboration with Spanish DJ mouseDown and Danish woodwind player Jakob Draminsky.
More information on the performers:
KOJI ASANO laptop performer and composer now based in Tokyo, has released 60+ albums and performed in more than 20 countries. His original music range from orchestral works to live electroacoustic improvisations.
mouseDOWN is Salva Coromina, a DJ and producer from Barcelona linked to the electronic music scene since the 90s, his styles range from Techno to ambient and experimental music.
JAKOB DRAMINSKY HØJMARK composer and performer with an special interest in stagemusic, electroacustics, improvisation and microtuning.
AmDD is available for streaming and download from your favourite online store. Click for direct link to iTunes, Spotify, Deezer & Amazon.