RFR010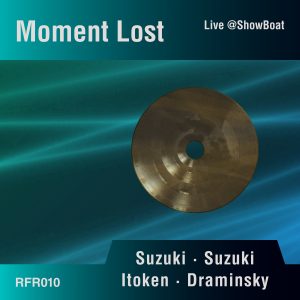 Live @ ShowBoat
Suzuki Shingo: acoustic guitar and  cello.
Suzuki Kentaro: double bass.
Itoken: Drums.
Jakob Draminsky Højmark: bass clarinet and sopranino sax.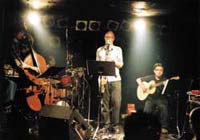 This album capture the first performance of Jakob Draminsky Højmarks project Moment Lost at Tokyos, ShowBoat during "Cinematic Voices vol.5" by the Japanese AirplaneLabel in 2003.
– Moment Lost was conceived as a soundtrack for 9 scenes of an imaginary Dogme95 film where the visual parts is created in the mind of the individual person present in the room where the music is being played.
– The project toured Kansai and Kanto area and was finally recorded and released by MultiSounds adding keyboard player OnoTetsu.
More information on the performers:
SUZUKI SHINGO string player, programmer and long distance runner based in Tokyo.
SUZUKI KENTARO double bass player and composer based in Paris. Recording, composing and performing for a long list of international projects including film and fine arts.
ITOKEN drummer, composer and sound artist based in Tokyo. Contributing to countless of collaborations and projects in the field of music, theatre, dance, multimedia, TV and R&D.
JAKOB DRAMINSKY HØJMARK composer and performer with an special interest in stagemusic, electroacustics, improvisation and microtuning.
Moment Lost is available for streaming and download from your favourite online store. Click for direct link to iTunes, Spotify, Deezer & Amazon.