RFR007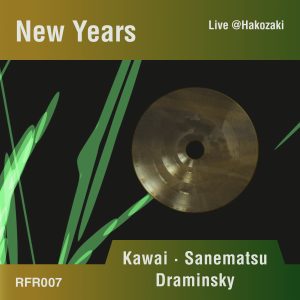 Live @Hakozaki
Kawai Takuji: grand piano, toy piano and acoustic melodion.
Sanematsu Akira: voice, percussion and electronics.
Jakob Draminsky Højmark: electro-acoustic melodions and FX.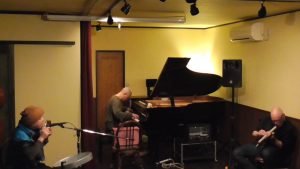 Recorded on January 8th, 2020 in Hakozaki, Japan this album is documenting an encounter of the free and open approach to sound by three experienced improvisers at a moment just before the world went into global lock down.
More information on the performers:
TAKUJI KAWAI composer-improviser-pianist born in Kobe based in Fukuoka. Since late 1980s active as solo performer as well a member of countless collaborations between musicians, dancers and artists from in and out of Japan.
AKIRA SANEMATSU based in Fukuoka and active as sound- and visual artist since the 1990s, organising and participating in numerous projects and events.
JAKOB DRAMINSKY HØJMARK composer and performer with an special interest in stagemusic, electroacustics, improvisation and microtuning.
New Years is available for streaming and download from your favourite online store. Click for direct link to iTunes, Spotify, Deezer & Amazon.