MSCD10
Music by Jakob Draminsky Højmark.
Himmelskibet – a trip to Mars.
– Featuring Excelsior All Stars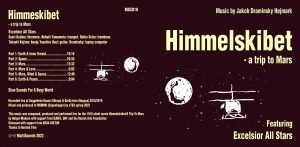 PART 1 EARTH & INNER UNREST……..19:16
PART 2 SPACE…………………..………………10:35
PART 3 MARS……………………………………13:32
PART 4 MARS & LOVE………………………..5:02
PART 5 MARS, MIND & SPACE…………..12:46
PART 6 EARTH & PEACE…………………….9:04
This soundtrack for the 1918 silent movie Himmelskibet by Danish director Holger-Madsen is a slowly expanding aural tapestry inspired by the films message of "peace, love and understanding".
The music establish a dreamy sonic space around the old media and moves in contrast to the melodramatic plot of the film. A contemporary approach to the old time musical accompaniment.
The release is based on recordings made during live Draminskys performances in Japan 2018/2019 collaborating with Excelsior All Stars a variable entity consisting of Kojima Saori: theremin, Yamamoto Nobuki: trumpet, Seizo Rieko: trombone, Kojima Takashi: banjo and Yasuhiro Usui: guitar.
This project has been made possible with support from DJBFA and DKF and the Danish Arts Foundation and is released with support from KODA KULTUR.
For more information about the live project see Himmelskibet.
For purchase please consult MultiSounds Shop.