MSCD09
Music by Jakob Draminsky Højmark
ÔMAGARI – three sonic zones for pipe organ and computer
– Featuring Peter Navarro-Alonso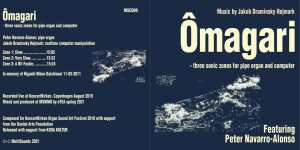 Zone 1: Slow…………………..15:03
Zone 2: Very Slow…………..13:32
Zone 3: A Bit Faster………..15:24
In memory of Higashi Nihon Daishinsai 11-03-2011.
The three movements reflect periods of life in the small town, Ômagari, in northeastern Japan.
The city is located in Higashimatsushima municipality, which at the time of the earthquake in 2011 was hit by a huge tsunami that killed hundreds of people and made thousands more homeless.
The title plays on the name of the small coastal town. In English, the characters 大曲 – as the name is written with – can be translated as "the great curvature".
While the two signs here probably refer to the shape of the river that runs along one side of the city, in other linguistic contexts they may have the meaning "radical distortion".
One can also find this combination of characters within the thousand year old Japanese court music, gagaku.
Here it is pronounced "taikyoku" and used about particularly challenging works.
The suite's melodic, harmonic, dynamic and sonic development is based on geodata from areas in the Japanese city.
Ômagari was composed for KoncertKirken Organ Sound Art Festival 2018 with support from the Danish Arts Foundation and the piece is released with support from KODA KULTUR.
It is recorded at KoncertKirken, Copenhagen August 2019 and mixed and produced at MSMMU by eTEA spring 2021.
In live performance the real-time computer manipulations of the organ sound is defuses through a multichannel set up.
Peter Navarro-Alonso, educated at Real Conservatorio Superior de Música de Madrid and The Royal Danish Academy of Music, Copenhagen.
He graduated as both composer, organist and classical saxophonist and has received numerous commissions from ensembles, orchestras, choirs and opera houses in Denmark and abroad.
He is a four time Grammy nominee as well as a nominee for the Nordic Council Music Prize. His concerto grosso "Le Quattro Stagioni" was awarded by The Danish Arts Foundation as one of the most groundbreaking compositions of the year.
Besides composing and giving recitals, Mr Navarro-Alonso holds a position as professor at The Royal Danish Academy of Music and was recently appointed organist at Our Saviour's Church Copenhagen.
For purchase please consult  MultiSounds Shop.