RFR001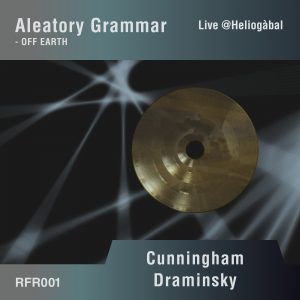 OFF EARTH
Aleatory Grammar
Mark Cunningham: trumpet and processors.
Jakob Draminsky Højmark: keyboard and laptop
Aleatory Grammar create music from intuitive combinations/mutations of played and processed acoustic trumpet, electronic keyboards and myriad samples, abstract but not absent, fulfillingly present in the heat of the improvised moment.
Recorded live July 7th 2007 at Heliogràbal in Barcelona, OFF EARTH is the third album from the US/DK duo.
The album is mixed in Copenhagen during the summer of 2018 by eTEA.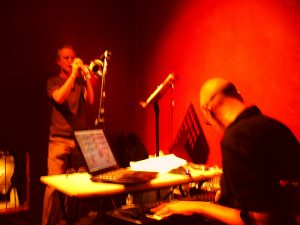 Between 2001 and 2007 US, No Wave pioneer, Mark Cunningham and Danish composer Jakob Draminsky, collaborators since the early '90s in Barcelona, performed around Spain and Europe and released two albums – Aleatory Grammar (2002) and abcedminded (2004) as a coproduction between MultiSounds and Spookysound.
With the release of OFF EARTH on Raised Field Records the duo is back in action.
Pioneer of the New York No Wave with the bands Mars and Don King, Mark Cunningham has been part of the Barcelona music underground for almost 30 years,performing solo, with his own groups Raeo, Convolution, Aleatory Grammar, Bèstia Ferida, and Blood Quartet, as a member of Pascal Comelade´s Bel Canto Orchestra,and in countless local and international collaborations.
http://markcunningham.cat/
Danish composer Jakob Draminsky develops his sonic world within the realm of stage music, live electroacoustics and improvisation. His music has been performed in Europe, The Americas and Japan. Between 1990 and 2007 he was based in Barcelona and here after he has been commuting between his native Copenhagen and Tokyo with live solo projects and collaborations.
http://multisounds.dk/
OFF EARTH is available for streaming and download from your favourite online store. Click for direct link to iTunes, Spotify, Deezer & Amazon.