RFR008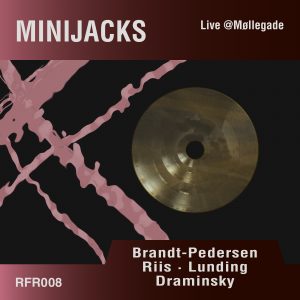 Live @Møllegade
Minijacks
Jakob Brandt-Pedersen: laptop and stylus.
Jakob Riis: laptop.
Rasmus B. Lunding: laptop.
Jakob Draminsky Højmark: laptop

Recorded in LiteraturHaus in Møllegade, Copenhagen, 2003 this album documents a collaboration between four Danish composers exploring the laptop as a live-instrument in electronic music.
– Conceived and coined by Jakob Brandt-Pedersen in 2001, Minijacks was active until 2008 investigating both on- and off-line real-time collective network improvisation and composing based on early MAX-MSP.
– Proberly the eldest laptop quartet in Denmark.
More information on the performers:
JAKOB BRANDT-PEDERSEN graphic designer and active on the Danish scene of both acoustic and electronic sound art until 2015.
JAKOB RIIS composer, laptop musician and improviser based in Malmö. Active in the experimental fields of electronic music, sound art, sonic webart, improvisation and contemporary composition in countless projects and collaborations.
RASMUS B. LUNDING involved in sonics since childhood; making noise on guitars, recording sounds, programming sounds for design and compositions. Lately main focus on construction sound systems, teaching and facilitating sonic developments at educational institutions.
JAKOB DRAMINSKY HØJMARK composer and performer with an special interest in stagemusic, electroacustics, improvisation and microtuning.
Minijacks is available for streaming and download from your favourite online store. Click for direct link to iTunes, Spotify, Deezer & Amazon.