Slow Sounds For A Busy World
Draminsky performs live music for Himmelskibet/A Trip To Mars a silent film by Danish director Holger-Madsen from 1918.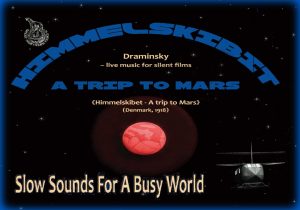 Himmelskibet/A Trip To Mars is a surprising large scale SF production for its time. The film mixes visionary experimental shots with a fairly dated acting style and a some times comical scenography, but the subject: "A hope for peace" is unfortunately still much too relevant to the world.
Draminskys real-time sound track is a slowly expanding aural tapestry inspired by the films message of "peace, love and understanding". It establish a dreamy sonic space around the old media and moves in contrast to the melodramatic plot of the film. A contemporary approach to the old time musical accompaniment.
Himmelskibet/A Trip To Mars is based on the project Himmelskibet in Japan developed in collaboration with the Danish/Japanese ensemble Excelsior All Stars (Kojima Saori: theremin, Yamamoto Nobuki: trumpet, Seizo Rieko: trombone, Kojima Takashi: banjo, Draminsky: FM) in Kansai, spring 2018.
The solo version integrates recordings and samples from the original project, simple FM Synthesis and real-time electro-acoustic spatialization and modulation.
Musical references: La Monte Young, Pauline Oliveros, Alessandro Cortini and Japanese gagaku.
Practical information:
The film last 80 minutes and has English subtitles.
A performance requires a video projector, space for screening and (preferable) a four channel sound system.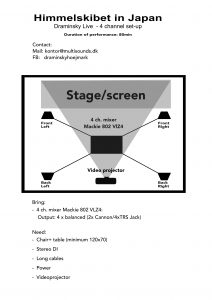 Click to open
Himmelskibet/A Trip To Mars has been performed at:
More information:
About the film:
https://www.dfi.dk/en/viden-om-film/filmdatabasen/film/himmelskibet
Draminsky profile:
http://multisounds.dk/artist-info/short-profile/
Sound and images:
Contact:
kontor [add] multisounds.dk
Himmelskibet/A Trip To Mars is made possible with support from DJBFA and DKF's komponistmidler, The Danish Art Foundation and Den Højmarkske Familiefond.
Special thanks to Excelsior All Stars, Danish Film Institute and Nordisk Film.