December 2018: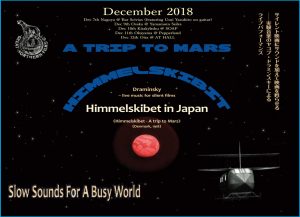 火星探検を夢見る若きアヴァンチ・プラネターロスは、宇宙船EXCELSIORを建造し、夢想家グループを率いて火星へと飛び立つ。 遙かな惑星にたどり着いた彼らが遭遇するのは、地球とは正反対の平和な文明だった……。 『Himmelskibet』は、1918年、第一次世界大戦が終了する直前に製作された。疲弊したヨーロッパの人びとがいかに平和を希求したか、この映画は示しているかもしれない。 平和と愛にあふれたこの映画は世界初のスペースオペラ映画と呼ばれている。 Denmark, 1918, Director: Holger-Madsen, 80 min.
Download: Default files for Japanese flyer/poster and internet
The December 2018 version of Himmelskibet-in-Japan is based on simple FM Synthesis and live recordings from a collaboration with the Danish/Japanese ensemble Excelsior All Stars (Kojima Saori: theremin, Yamamoto Nobuki: trumpet, Seizo Rieko: trombone, Kojima Takashi: banjo, Draminsky: FM) in Kansai, spring 2018.
Musical references: La Monte Young, Pauline Oliveros, Alessandro Cortini and Japanese gagaku.
ヤコブ・ドラミンスキ ー (デンマーク)。
作曲家として主に即興音楽、舞台音楽等、サウンド ・アートのフィールドを中心に活動。器楽奏者としては、フランス人ピアニスト Pascal Comelade のグループに参加(1991-2001)するかたわら、コンピューターテクノロジーを駆使しながら、ソロとしてコンサート活動を行う。日本国内での活動としては、2001年から東京、名古屋、福岡、大阪において日本人のインプロヴァイザーや能楽師とともに、さまざまなコラボレーションを行っている。
Some former presentations:
Himmelskibet in Japan is made possible with support from DKF's komponistmidler, The Danish Art Foundation and Den Højmarkske Familiefond.
Special thanks to Excelsior All Stars, Danish Film Institute and Nordisk Film.